A National Election Committee appeal to social media users not to dent confidence in the electoral process and a subsequent threat of potential legal action have sparked concerns from observers of a chilling effect on online commentary ahead of the July national election.
The statement called on bloggers and users of social media networks to avoid "creating fear, confusion and a loss of confidence in the electoral process" and "offering misinformation about the electoral process, especially the date of the election".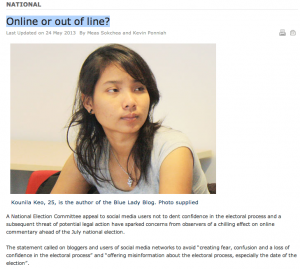 NEC Secretary-General Tep Nytha downplayed that language yesterday, telling the Post that the committee respects the rights of users to comment on the election.
"[Users] have the right to respond to each other and the right to send information to each other, but we would like them to respect the date and important principles of the election to avoid sending wrong information," he said.
But he added that the NEC would take legal action if someone lodged a complaint about social media postings in order to avoid negative influence on the electoral process and a loss of confidence in the election.
Kounila Keo, a prominent blogger and media consultant, told the Post that the statement marks an intrusion into freedom of speech.
"The NEC has no right to say that to individual citizens, who have the right to say what they think and share information freely . . . That's part of the rights ensured by the constitution of Cambodia," she said.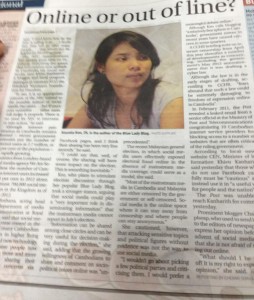 "This has proved that this government or even other governments are fearing that they are being overpowered by us netizens," she added.
Cambodian Center for Human Rights president Ou Virak said yesterday that although parts of the statement were acceptable, the use of broad language implying that those who criticise the NEC could be targeted was  "concerning".
"We don't know what the NEC is intending . . . but I think such implicit suggestions tend to be enough in silencing many voices. I think that is what the NEC is trying to do," he said. "I don't know how far the NEC is willing to go . . . I doubt that they will go after many people . . . that would not be helpful for the ruling party."
The NEC announcement has already gone viral on Facebook, indicating the speed that information now spreads in Cambodia via social networks, said Khim Sophanna, a blogger and local program manager at German NGO the Friedrich Naumann Foundation for Freedom.
"To me, it is an appropriate concern of the NEC related to the possible misuse of social media [by] users . . . but if users post nonsense . . . other users will judge it properly. There is no need for NEC to intervene or take action," he said.
Although internet penetration in Cambodia remains limited – recent government estimates put the number of internet users at 2.7 million, or 18 per cent of the population – it is rapidly growing.
Statistics from London-based social media agency We Are Social show the number of Cambodian internet users increased by 548 per cent in 2012 alone, with almost 700,000 social media users in the Kingdom as of October 2012.
Som Rothana, acting head of the department of media and communication at Royal University, said that social media has become rooted in the daily lives of many Cambodian youth thanks to higher living standards and new technology.
"I think these people now are becoming more and more interested in sharing their thoughts and concerns via Face­book pages, and I think their sharing has been very free recently," he said.
"I could say that, well, of course, the sharing will have some impact on the election. This is something inevitable."
Keo, who plans to stimulate election discussion through her popular Blue Lady Blog, took a stronger stance, arguing that social media could play a "very important role in disseminating information" that the mainstream media cannot report in July's election.
"Information can be shared among close circles and can be very useful for decision-making during the election," she said, adding that the growing willingness of Cambodians to share and comment on socio-political issues online was "unprecedented".
The recent Malaysian general election, in which social media users effectively exposed electoral fraud online in the absence of mainstream media coverage, could serve as a model, she said.
"Most of the mainstream media in Cambodia and Malaysia are either censored by the government or self-censored. Social media is the online space where it can stay away from censorship and where people can stay anonymous."
She cautioned, however, that attacking sensitive topics and political figures without evidence was not the way to use social media.
"I wouldn't go about picking a few political parties and criticising them. I would prefer a meaningful debate online."
Although Keo calls blogging "a relatively free sphere in Cambodia", government moves in recent years have caused concern in some quarters.
A CCHR briefing note on internet censorship from April this year identifies a number of developments as concerning, including the government's May 2012 announcement that it was drafting a cyber law.
Although the law is in the early stages of drafting, according to CCHR, "fears abound that such a law could be extremely damaging to freedom of expression online in Cambodia".
In February 2011, the Post revealed a leaked email from a senior official at the Ministry of Post and Telecommunications congratulating 10 Cambodian internet service providers for blocking access to a number of websites that are often critical of the ruling government.
According to local news website CEN, Minister of Information Khieu Kanharith said yesterday that those who do not use Facebook carefully must be "cautious" and instead use it in "a useful way for people and the nation".
The Post was unable to reach Kanharith for comment yesterday.
Prominent blogger Chak Sopheap, who used to send letters to the editors of newspapers to express her opinion before the advent of social media, said that she is not afraid of speaking out online.
"What should I be scared of? It is my right to express my opinion," she said.
Additional reporting by Cheang Sokha