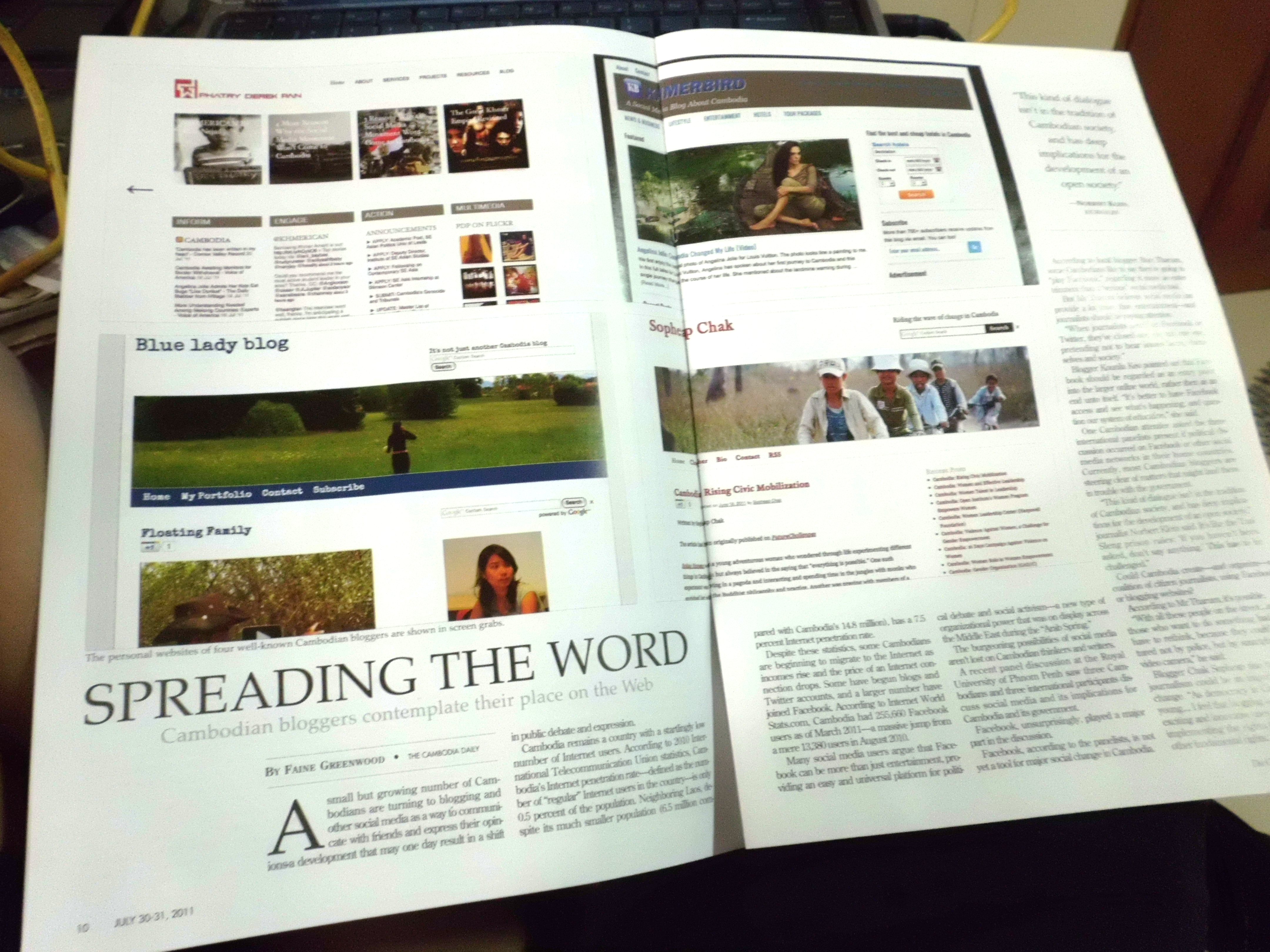 The Cambodia Daily, one of the English news publications in Phnom Penh, featured an article about Cambodian blogging or "Khlogging"—sorry, I just invented it as I go–on one of its Saturday-Sunday publications.
A picture of me speaking at DMC on how Social Media influences public affairs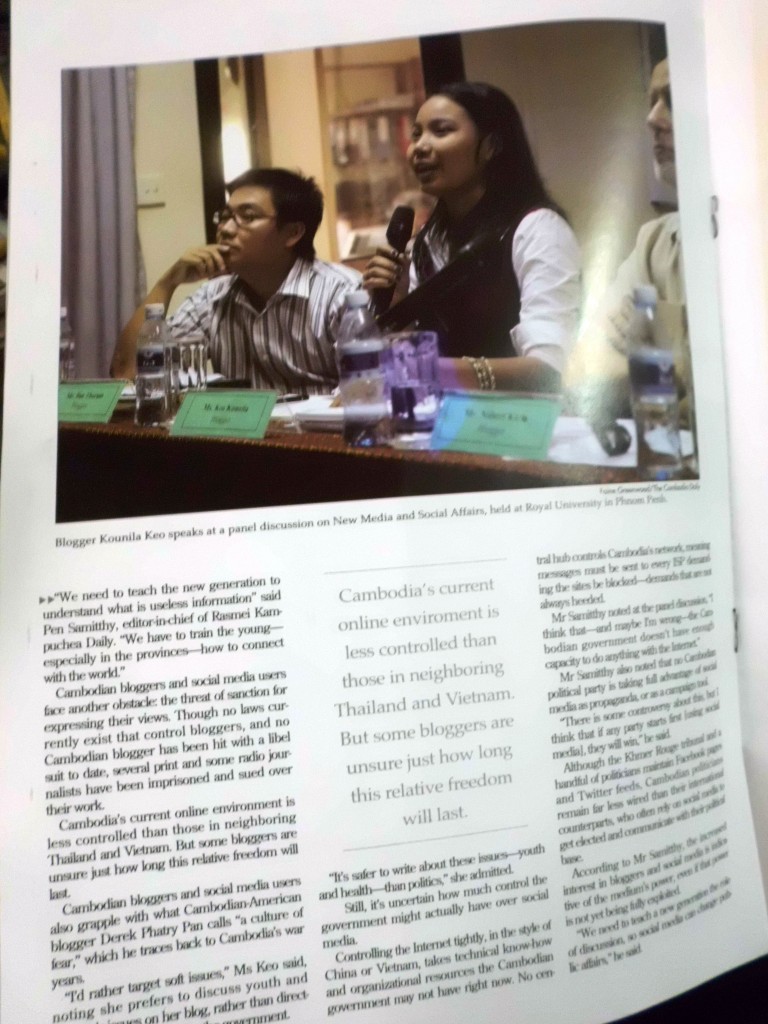 Cambodian Bloggers Contemplate Their Place in Social Media World
By Faine Greenwood
The Cambodia Daily, July 30-31, 2011
A small but growing number of Cambodians are turning to blogging and other social media as a way to communicate with friends and express their opinions-a development that may one day result in a shift in public debate and expression.
Cambodia remains a country with a startlingly low number of Internet users. According to 2010 International Telecommunication Union statistics, Cambodia's Internet penetration rate-defined as the number of "regular" Internet users in the country-is only 0.5 percent of the population. Neighboring Laos, despite its much smaller population (6.5 million compared to Cambodia's 14.8 million), has a 7.5 percent Internet penetration rate.
Despite these statistics, some Cambodians are beginning to migrate to the Internet as incomes rise and the price of an Internet connection drops. Some have begun blogs and Twitter accounts, and a larger number have joined Facebook. According to Internet World Stats.com, Cambodia had 255,660 Facebook users as of March 2011-a massive jump from a mere 13,380 users as of August 2010.
Many social media users argue that Facebook can be more than just entertainment, providing an easy and universal platform for political debate and social activism-a new type of organizational power that was on display across the Middle East during the "Arab Spring."
The burgeoning possibilities of social media aren't lost on Cambodian thinkers and writers. A recent panel discussion at the Royal University of Phnom Penh saw three Cambodians and three international participants discuss social media and its implications for Cambodia and its government. Facebook, unsurprisingly, played a major part in the discussion.
Facebook, according to the panelists, is not yet a tool for major social change in Cambodia. According to local blogger Bun Tharum, some Cambodians like to say they're going to "play Facebook," regarding it more as entertainment than a "serious" social media tool.
But Mr Tharum believes social media can provide a lot more than entertainment-and journalists should be paying attention. "When journalists aren't on Facebook or Twitter, they've closed one ear and one eye, pretending not to hear issues facing themselves and society."
Blogger Kounila Keo pointed out that Facebook should be regarded as an entry point into the larger online world, rather then as an end unto itself. "It's better to have Facebook access and see what's happening, and question our system of education," she said.
One Cambodian attendee asked the three international panelists present if political discussion occurred on Facebook or other social media networks in their home countries. Currently, most Cambodian bloggers are steering clear of matters that might land them in trouble with the government.
"This kind of dialogue isn't in the tradition of Cambodian society, and has deep implications for the development of an open society," journalist Norbert Klein said. It's like the Tuol Sleng prison rules: 'If you haven't been asked, don't say anything.' This has to be challenged."
Could Cambodia create-and organize-a coalition of citizen journalists, using Facebook or blogging websites?
According to Mr Tharum, it's possible. "With all these people on the street….maybe those who want to do something bad might have to rethink, because they could be captured not by police, but by smartphones or a video camera," he said.
Blogger Chak Sopheap also thinks citizen journalism could be an important agent of change. "As democracy in Cambodia is still young…. I feel that blogging is one of the most exciting and innovative uses of technology for implementing the rights to expression and other fundamental rights.
"We need to teach the new generation to understand what is useless information" said Pen Samitthy, editor-in-chief of Rasmei Kampuchea Daily. "We have to train the young-especially in the provinces-how to connect with the world."
Cambodian bloggers and social media users face another obstacle: the threat of sanction for expressing their views. Though no laws currently exist that control bloggers, and no Cambodian blogger has been hit with a libel suit to date, several print and some radio journalists have been imprisoned and sued over their work.
Cambodia's current online environment is less controlled than those in neighboring Thailand and Vietnam. But some bloggers are unsure just how long this relative freedom will last.
Cambodian bloggers and social media users also grapple with what Cambodian-American blogger Phatry Derek Pan (sic) calls "a culture of fear," which he traces back to Cambodia's war years.
"I'd rather target soft issues," Ms Keo said, noting she prefers to discuss youth and women's issues on her blog, rather than directly address issues related to the government.
"It's safer to write about these issues – youth and health – than politics," she admitted.
Still, it's uncertain how much control the government might actually have over social media.
Controlling the Internet tightly, in the style of China or Vietnam, takes technical know-how and organizational resources the Cambodian government may not have right now. No central hub controls Cambodia's network, meaning messages must be sent to every ISP demanding the sites be blocked – demands that are not always heeded.
Mr Samitthy noted at the panel discussion, "I think that-and maybe I'm wrong-the Cambodian government doesn't have enough capacity to do anything with the Internet."
Mr Samitthy also noted that no Cambodian political party is taking full advantage of social media as propaganda, or as a campaign tool.
"There is some controversy about this, but I think that if any party starts first (using social media), they will win," he said.
Although the Khmer Rouge tribunal and a handful of politicians maintain Facebook pages and Twitter feeds, Cambodian politicians remain far less wired than their international counterparts, who often rely on social media to get elected and communicate with their political base.
According to Mr Samitthy, the increased interest in bloggers and social media is indicative of the medium's power, even if that power is not yet being fully exploited.
"We need to teach a new generation the role of discussion, so social media can change public affairs," he said.
Author of the article: Faine Greenwood